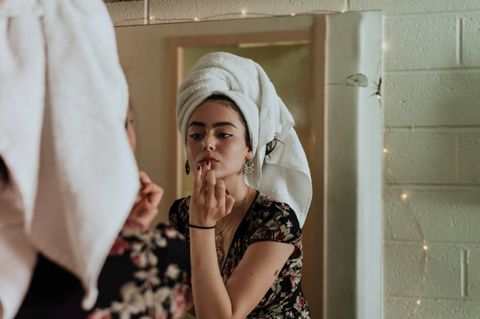 World No Tobacco Day: the impact of smoking on our skin
This year, the theme for World Tobacco Day is "tobacco's threat to our environment". Tobacco contains more than 4000 chemical substances, over 50 of which are carcinogenic. Today, everyone knows that tobacco has an impact on the environment as well as on our bodies, but what exactly does it do to our skin? And are there ways to reduce the effects to make your face look more luminous and radiant ?
The effects of smoking for our skin
Smoking is very harmful for our skin. The substances present in cigarette smoke build up in our pores and hinder oxygenation of skin cells, which can give smokers a pale and grey complexion. 
But smoking also has other negative effects. It can lead to the constriction of blood vessels, disrupting normal blood circulation of red blood cells meaning they then have more difficulty in supplying the superficial layers of the epidermis with oxygen. This is why smokers tend to get wrinkles earlier.  
Smoking also reduces the natural renewal of keratinocytes and can cause cysts responsible for rosacea or psoriasis. It can also cause dark spots or redness to appear on the skin that are difficult to get rid of.  
Tips: How to
make your skin look great and your complexion fresh by enhancing your eyes 
Whether you smoke or not, taking care of your skin every day is essential. Healthy, glowing skin will give you a fresh look that you can enhance with fresh modern makeup and great eyebrow makeup.  
How to take care of your skin every day 
The skin on your face needs to be cleaned daily to unblock pores and prevent bacteria building up. This ritual should be followed by moisturization using a hydrating and nourishing cream.  
Day creams rich in vitamin C are perfect for nourishing damaged skin thanks to their antioxidant properties. Anti-aging serums and creams can also help to slow down skin aging.  
On the other hand, for better protection you can use protective moisturizers (anti-UV) all year long (even in winter). They help to protect you from the harmful rays of the sun, especially UVA and UVB rays that are responsible for the appearance of dark spots, wrinkles and other skin imperfections.  
Makeup tips for a fresh-faced look
Whether you didn't sleep much the night before or your skin is damaged for whatever reason (tiredness, smoking, sun exposure, etc.), here are some practical tips to perfect your makeup and give you a guaranteed fresh-faced radiant look: 
use a concealer that suits your skin tone

(with a yellow

tint

for light skin and a coral

tint

for darker skin)

 

avoid grey or purple eyeshadow that will emphasize dark circles 

 

don't use mascara on your lower lashes to avoid accentuating the drooping eyelid effect that often appears when we are tired or our skin is damaged

 
ensure your complexion is fresh and luminous

 

shape your brows

for a guaranteed lifting effect

 
How to enhance your eyes when you're looking tired 
When your skin is prematurely aged due to the effects of smoking or for other reasons, the eyelid skin tends to sag, causing a drooping effect, which gives you a tired look. Properly applied eye makeup can help you reduce this tired appearance and give you a radiant glow. For this, great eye makeup is essential. Here is an example of how you can instantly banish that tired look in a few easy steps:  
Using an

eyebrow pencil

close to the colour of your eyebrows, redraw your brows

 
Use concealer or a light pencil to draw a line under your eyebrows, then blend it. This will help to highlight your eyebrows and restructure the lines of your face to help you glow 

 
Don't forget to apply concealer under your lower eyelids 

 
Use eyeshadow in colours that suit you 

 
Use a touch of highlighter or the inner corner of the eyes as a finishing touch to make your eyes sparkle and banish any hint of tiredness.