Article: Old False eyelashes vs. eyelash extensions: finding the right option for you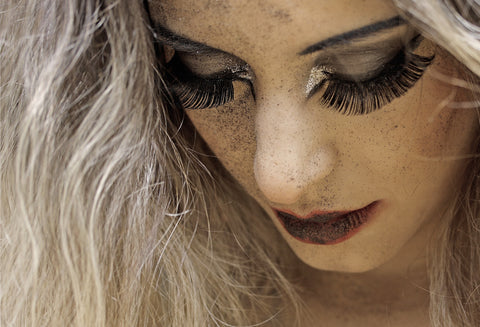 Old False eyelashes vs. eyelash extensions: finding the right option for you
Makeup such as eyeshadow, mascara and eyeliner, allows you to enhance your eyes and make them look bigger. But perfect makeup takes time,and unfortunately we don't all have a spare hour each morning to properly apply our makeup. This is where false eyelashes or eyelash extensions can come in useful, to help give you beautiful looking eyes in all circumstances.
False eyelashes
:
a cheap and temporary solution
False eyelashes are fairly easy to apply and give your lashes instant volume to show off your eyes. 
The different types of false eyelashes
 False eyelashes can generally be applied yourself at home. All you need is a mirror and a bit of patience. Different styles are available. Just like with an eyelash enhancement, some types of false eyelashes give your lashes a lot of volume while others give more natural results.  
False eyelashes are available in a variety of colours, and come with or without rhinestones or even with patterns.   
In total, there are three types of false lashes:  
Half false lashes

:

these are applied to half the lash line, close to the outer edge of the eye, giving a natural finish

.

 
Full fringe lashes

: these are applied to the entire lash line.

Very widely used, t

hey

often come in a kit with glue and everything you need to add volume to your lashes. 

 

Individual false eyelashes: these are sold in small packs and allow you to fill in patchy eyelashes. 

 
False eyelashes are fixed to your natural lashes either with glue or using small magnetic strips. The advantage of magnetic lashes is that they are reusable and generally last longer than lashes fixed with glue  
False eyelashes can be easily found in stores (supermarkets or cosmetics shops), and vary in price from around €5 to €50.   
Tips for applying false lashes 
 For a quick and simple false eyelash technique:  
Adjust the length of your false eyelashes (don't hesitate to cut them)

.

 
Apply glue to your lash line and wait for a few minutes

.

 
Apply the false lashes, starting at the inner edge of your eye. It is important to apply them precisely on your natural lash line

.

 
Press down for around 10 seconds, and you're ready to go! 

 
Eyelash extensions: a longer lasting alternative with more natural results 
Eyelash extensions involve applying artificial lashes to your natural lashes one by one to increase volume and length. As we have on average 200 eyelashes, the process takes at least an hour and a half. This technique can only be done at the salon, because it requires expertise and professional equipment.  
It costs between €60 and €200 for a Russian volume eyelash extension at one of our salons. However, eyelash extensions can last several weeks or even up to a month. Depending on the type of eyelash extension, it is sometimes recommended to give your natural lashes a rest period so they can grow.  
Eyelash extensions vs. false eyelashes: which to choose ? 
Depending on your needs, habits and tastes, either solution can work well. To help you decide, here's a list of the advantages and disadvantages of false lashes and lash extensions.  
 

Avantages 

Inconvénients 

Lash extensions 

 

Long lasting

(3

weeks to a month

)

 

 

 

 

Choice of volume (as well as length and curl) 

 

 

 

 

 

Sometimes restrictive r

ecommandations (necessary to

keep them dry for

24

hours and to use cosmetics without oil)

 

 

 

False lashes 

 

 

Possibility of varying styles from one day to the next 

 

 

 

Some brands are reusable (magnetic lashes) 

 

 

 

Can't be worn more than 24 hours

 

Can come off after a few hours, depending on quality 

 

 
In short, both solutions can work well. False eyelashes are perfect if you're looking to enhance your eyes for a night out or special occasion (birthday, wedding, important event). While lash extensions are the solution for you if you're looking for longer lasting results.