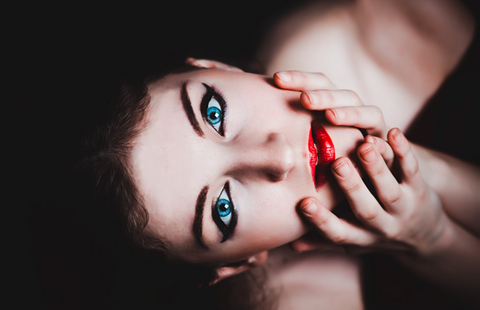 Valentine's Day: 5 makeup tips for a sexy look
With Valentine's Day fast approaching, you might well have a romantic dinner with your beloved lined up. If you've found THE outfit but are still not sure about the make up, check out our 5 top tips for a sexy look.  
Makeup for Valentine's Day
While you don't need a particular day to prove you love your partner, 14 February is still a special moment. For a lot of couples, it is the occasion to spend a unique and romantic evening together. And for women, it's the chance to bring out your best outfit and most beautiful makeup.  
We all want to make ourselves beautiful for that special someone. This is the moment to dare to try out something different with your makeup to really make an impression. Eyes, mouth, complexion…there are lots of ways to enhance your features and drive your valentine wild.   
1 - A perfect complexion
For a romantic restaurant meal, dinner at home or a moonlit walk, don't forget to focus on your complexion. In the middle of winter and after a long day at work, your face might be looking a bit tired. This can make your complexion duller and less luminous, so going without foundation is not an option. For a more natural look, you can choose a fairly light foundation, which will give you beautiful natural looking skin. Other essentials are a corrector and concealer which will come in useful for masking any little imperfections to give you a flawless luminous look whatever the circumstances.   
2 - Smoldering eyes
For a sexy and irresistible look, eye makeup is essential. If you have light eyes, you can highlight them with a dark eyeshadow. Carefully apply it, blending and shading it to create a sublime smoky look. For dark eyes, you can easily match your eyeshadow to your outfit or opt for warm tones (browns, orange, red, etc.), which are perfect for a glamorous, romantic look. It is also important to focus on your eyebrows, which, if properly shaped, will frame your face and bring out your eyes. So make sure you have an eyebrow shaping in the diary for before Valentine's Day.   
3 - Mascara - non-negotiable
Whether you are keeping your makeup light or going for something more elaborate, mascara should be an essential element of your Valentine's Day makeup. For a natural, discreet look, black and brown are perfect. You can enhance your eyes by opting for a volume or lengthening mascara, which will give them more depth and intensity. If your eyelashes are lacking in length, why not try an eyelash enhancement to lift and curl your lashes and give them a bit more length for a sexy and glamorous look.   
4 - Eyeliner to make your eyes bigger
As you can see, eye makeup is essential for Valentine's Day.  
Like mascara, eyeliner is non-negotiable. A light line on your upper lid, extending to the outer edge of the eye and ending in a point will bring a sexy touch to your makeup. This look, known as "cat eyes" is perfect for enhancing your eyes.  
5 - Perfect lips
Any Valentine's Day look absolutely must include beautiful lips. And 14 February is your chance to try out unusual or flashy shades. Don't be afraid to go for a passionate red, a fuschia pink or any other colour that will complement your complexion and give you an irresistible look. Of course, it's best to stick to red and pink shades, which are particularly suited to the occasion. If a romantic dinner is on the cards, don't forget to opt for a matt, long lasting lipstick, that will look good for several hours. 
For a successful Valentine's Day look, don't forget to plan ahead  
Great makeup isn't something you can improvise. It requires the right products and a minimum of skill. If you're not used to using makeup or you're not familiar with all the accessories, try out your look in advance so that any imperfections can be corrected. In addition, a trip to the salon for an eyelash extension or eyebrow shaping can be a good idea in the run up to the day.  It could also be the chance to have your makeup done professionally if you aren't at ease w