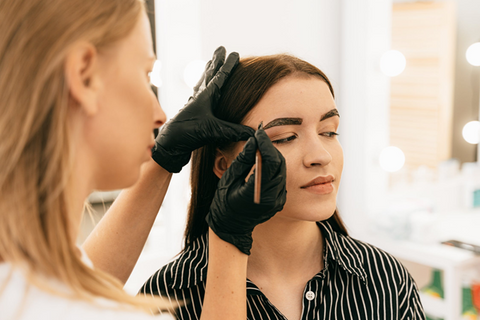 Everything you need to know about permanent makeup
Permanent makeup is very fashionable right now. This new trend is winning over more and more women and with good reason. It is an excellent way to have perfect makeup that lasts. But in reality, what exactly is permanent makeup? How does it work? What are the risks? We're here to tell you everything you need to know.  
Permanent
makeup
In short, permanent makeup involves injecting pigment into certain areas of the face.  
A professional inserts pigments under the skin in order to add colour and give the impression of perfect makeup at all times.  
First, it is important to say that while permanent makeup is a good long lasting makeup solution, it doesn't actually last forever, contrary to what its name might suggest. The pigments eventually fade and touch ups are required at regular intervals. Exactly how often depends on the pigmented area, but it is about once or twice a year for eyebrows, for example. Obviously, this also depends on your type of skin, the pigmented area of your face and the regeneration of cells.  
What advantages does it offer ? 
Permanent makeup is such a popular solution because of the many advantages it offers.  
First, it is done by a professional, who will be able to apply makeup in the right way to suit your face, skin tone, eye colour and features. And that's not all!  
The main advantage of permanent makeup is, of course, its hold. You no longer have to get up an hour earlier every morning to do your makeup, or touch your face up throughout the day to keep it looking good. Thanks to permanent makeup, you are perfectly made up from the moment you wake up. 
This makes it a great way to save time as well as money because you no longer need your normal beauty products. And fewer products means less packaging, less waste and less pollution.  
The different types of permanent makeup 
If you opt for permanent makeup, you can go for the full works, or take it slowly. Eyes, eyebrows lips… you can choose the area that is most important for you.  
Permanent eye makeup
It is possible to implant pigment under the superficial layers of skin to apply eye makeup. Here, there are two main options: the upper or lower lash line or the eyeliner line.   
To give your eyes more depth, you can opt for a permanent lash line. Using a needle, you can intensify the lash base (above or below) to give the impression of naturally made up eyes.  
The usual eyeliner line on the upper eyelid can also be done with permanent makeup. This will save you from having to painstakingly draw it on each day.   
Permanent lip makeup
Using a needle and an electrical device, the lips can be reshaped, made up and enhanced. Generally, this is done discreetly, using pigments quite close to those of the skin. Permanent lip makeup is often used to reshape the lips, to make them bigger or give them more volume.  
It is also possible to fill them in to give them more colour. Often, the result will be similar to that obtained using a gloss or nude lipstick.  
Permanent eyebrow makeup
Permanent eyebrow makeup is an ideal way to give your brows the perfect shape and to enhance your eyes. There are two main techniques used to reshape and improve your brow line: 
Microblading: This is a delicate method that involves drawing on hairs to structure, redesign or fill in brows. 

 
Microshading

: This method offers a natural and discreet finish using shading to intensify and strengthen your brows. 

 
To get perfectly shaped and natural-looking brows, you can also opt for a mixture of both these techniques.  
What are the risks of permanent makeup ? 
Carried out by a qualified professional, permanent makeup does not present any risks or complications. Though, like with any pigmentation, it is always possible to experience an allergic reaction to the pigments, but this is rare.