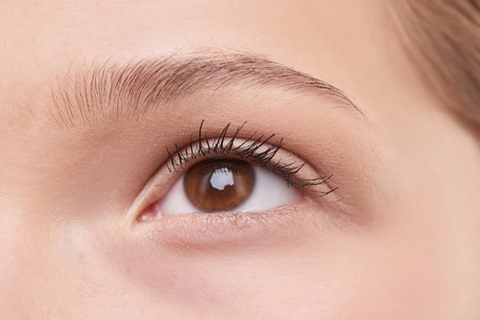 Skinny brows: the return of ultra thin brows ?
Very trendy in the 1990s and 2000s, ultra thin brows then went out of fashion in favour of full and well-structured brows, as worn by Cara Delevigne. But since the end of 2021, could we be seeing a come-back for skinny brows? With supermodel Bella Hadid now sporting ultra thin brows, is this a new trend to look out for or just a fad ?


Ultra thin brows: the star look of the '90s
Ultra thin brow lines have actually been around for about a century. Fashionable in the 1920s, they gave way to a trend for slightly fuller brows, before coming back into fashion in the '90s. This decade saw thin brows everywhere on the catwalks and in films and naturally, many women adopted the look, opting for a very thin brow line. The trend continued until the 2000s, when fuller bushy brows became the look to have, maintaining their appeal into 2020 and 2021. 
The return of ultra thin brows ? 
Towards the end of 2021, the sublime Bella Hadid was seen sporting ultra thin brows, and she's not the only one! More and more celebrities are thinning out their brow lines. It's also causing a buzz online with TikTokers joining in and bringing this style of eyebrow shaping, that we thought we'd put behind us, back into fashion.  
This shouldn't come as any surprise, the younger generation loves everything "vintage" and the fashions of the '90s are popular. After the crop top, low cut jeans and denim jackets, ultra-thin brows could well be THE next must-have look.  
Go for skinny brows, but don't overdo it !
After years of looking after full brows, with a well-defined and clear form, it's not easy to go skinny. Luckily, in 2022, going back to the ultra-fine look we might have known in the '90s is out of the question.  
Instead, you should be looking for a middle ground, a thinner line, but thicker than 20 years ago. Make your brows a bit thinner and make the tip finer.  
How to get the skinny brow look ?
If you've got thick eyebrows, you might be wondering how you can make the switch to thin brows. How should you properly shape your brows? For many of us, we're going from one extreme to another…So, it's important to be careful not to remove too much hair or completely mess up the transition to skinny brows.  
If you'd prefer to avoid hair removal for the moment, makeup can be an excellent alternative to make your brows appear thinner without touching your brow line. That way, you can get used to this new trend, and, most importantly, you don't run the risk of over plucking your brows.  
To achieve a thin brow look with makeup, you can use a concealer under the brow line to thin it out, then use an eyebrow pencil to redesign your eyebrow shape.  
If you'd prefer to go down the hair removal route, there are two possibilities: shaping your brows yourself at home, or going to a salon.  
If a lot of hair removal is required and your eyebrows need to be completely reshaped, it's best to go to an expert for this. A specialist will be able to properly shape your brows with precision and find the perfect shape for your face.  
If you choose to do it yourself at home, be careful not to remove too much hair, or end up with patchy brows. After having full brows for so long, it is easy to be a bit heavy handed with the tweezers and mess up your eyebrows. Make sure you take it slowly, being careful to keep your brows symmetrical. If you make a mistake, it's best to go to a salon to minimize the damage or you can wait patiently for your eyebrows to regrow, while using makeup to mask the problem. Eyebrow pencils, mascara, powder and concealer can all help you style your brows to give them a great shape and thinner look to enhance your eyes.  
Be careful not to over pluck. After a certain age, thinner brows can make you look older. Bear in mind that with age and repeated hair removals, your brow line naturally becomes thinner.