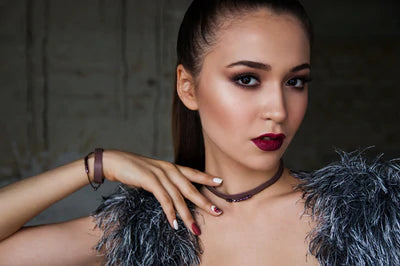 How to give your brows star quality
Haute Couture Fashion Week from 24 to 27 January 2022 is an opportunity to see the biggest stars on the catwalk. As well as their magnificent outfits, it is their perfect makeup and eyebrows that really stand out. So, how can you get eyebrows like a star? Here are our tips and tricks !  

The trend for full eyebrows 
Lily Collins, Cara Delevingne, Emma Watson… Many stars are known for their eyebrows. The current trend, embraced by models and other celebrities over the last few years, is for thick, full eyebrows.   
While thin eyebrows were popular for a long time, the trend is now very much for statement eyes with full, well-defined brows. The craze for thick and bushy eyebrows is gradually giving way to geometric brows, which are thick at the base and have a skinnier tail.  
How to get thick and full brows
Do you want celebrity-worthy full and well-defined brows? Now that we wear masks all the time, it is important to pay attention to our eyes and enhance them with makeup. 
There are several techniques that can help you accentuate your brows and give them a fuller appearance. From eyebrow makeup to the brow lift, it is easy to achieve a beautiful, on-trend look. Here are some tips and tricks to help give your eyebrows star quality.   
Define your brow shape
Thick eyebrows, which are very on-trend, don't need to be bushy. Go for well-defined brows suited to your face. A visit to the salon is key to finding the right brow shape for your face, which will help show off your eyes. If you are not used to plucking your eyebrows at home, a specialist can help you avoid asymmetric or over-plucked brows. 
The idea is to keep your brows thick up to the arch, then end with a skinnier tail. This will emphasize and intensify your eyes, giving character to your face and strengthening your features. 
Eyebrow makeup
To emphasize and intensify your brows, you can use makeup or an eyebrow tint. If you have skinny or sparse eyebrows, some simple tricks will help you give the impression of having fuller brows. You can use an eyebrow pencil or a microblading pen to draw on individual hairs, one by one, to create the appearance of thick brows.  
Eyebrow fixing gel can also be an excellent alternative if you're looking to tame your brows for the whole day and give them a good shape. Used with mascara and eyebrow pencil, it can help you enhance your brows naturally. 
The Brow-Up
The Brow-up is a good way to tame and reshape your brows in a more lasting way and to create a fuller appearance while keeping your brows natural. This treatment, usually done in a salon, involves applying products to the eyebrow hairs to soften them, then styling and fixing them into a predetermined shape. Your brows will be neater and appear naturally fuller, giving unbelievable results!  
Permanent makeup
The other solution for star-worthy brows is permanent makeup. You can reshape your eyebrows by inserting colored pigments into the derma, making it easy to have beautiful brows and striking eyes. 
Permanent makeup allows you to reshape your brows but also to make them fuller. It is the perfect solution for filling in thin or light brows. The two mainly used techniques are microblading and microshading. 
Microblading involves drawing on the brows hair by hair. A longer and more delicate process, this technique gives a natural result and helps fill in light brows. 
Microshading, on the other hand, involves working on shading for a natural, fade-out finish, which thickens the eyebrow. 
Great brows: don't forget to properly take care of them
Once your brow line is well defined and your brows magnificently plucked, you have to maintain and take care of them. To keep your brows looking worthy of the biggest Hollywood stars, the first step is to regularly pluck them. We absolutely don't want regrowth to ruin our stunning look, do we? For this, regularly set aside a few minutes to pluck the hairs that appear.  
But that's not all! You can also take care of your brows with our revitabrow. Thanks to its exclusive advanced scientific technology, this revitalizing treatment helps prevent hair breakage and makes your brows flexible and shiny for an even better look.