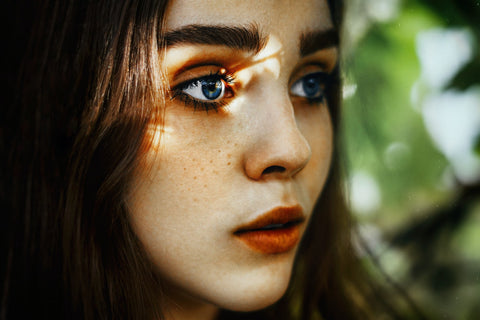 Your first eyebrow shaping at the salon? Here's what you need to know
Plucking your eyebrows at home is one thing, but going to the salon to get your eyebrows shaped is quite another. And when you put your eyebrows in the hands of someone else for the first time, it's normal to be a bit apprehensive. How does it work? What should you expect? Here's the lowdown on your first salon brow shaping.  
Case 1: You're eyebrows have never been shaped
Yes, that's right, there's a first time for everything. 
When you shape your eyebrows for the very first time, you generally want to do everything the right way. Defining the brow line most suited to your face is not always easy, so to put your mind at rest, it's best to head to the salon so they can find the perfect form to enhance your eyes.  
This is what we call eyebrow restructuring, and it involves completely redefining the shape of your eyebrows to suit your face.  
First of all, there's no need to worry. At Atelier du Sourcil, real experts will be able to advise you and guide you through the process to help you find the right option for you.  
At the salon, one of our technicians will greet you and explain in detail how the treatment will unfold. 
The process starts with a chat about what you want and the type of brows you have in mind. This is your chance to say if you want a natural look or a very defined, structured effect.  
Once this is clear, our specialist will completely remove any traces of makeup from your eyebrows and then mark some points of reference: the start, arch and tip of the brow. These points are important as they help mark out a natural brow line.  
With you sitting comfortably, the technician then moves on to hair by hair removal with tweezers, before adding makeup to help structure the look. When applying the eyebrow makeup, our expert will talk you through the best makeup techniques and give you tips and tricks to enhance your brows. You can learn a lot from their expert advice. From fixing gel to eyebrow pencils and mousse cream, our technician can help you find the eyebrow makeup that is the best fit for you.  
And that's all there is to it! 
Some redness and irritation is to be expected in the hours following the treatment, but don't worry it will fade quickly.  
So what next? You will then of course have to take care of your beautiful brows. To do that, you can keep using makeup to enhance them, and you'll also need to pluck them from time to time to remove regrowth. You can either maintain your brows yourself at home or pop to the salon. Properly maintaining your brows is easier and cheaper than having to completely restructure them again. After two months without any hair removal, your brows will need to be reshaped and structured again.  
Case 2: you regularly pluck your brows yourself
After years of plucking your brows at home, do you fancy trying the salon for a more professional, polished look? 
There are two choices available to you: eyebrow restructuring, if you want to completely reshape them, or eyebrow maintenance to make life easier for you.  
If your eyebrows are already well plucked, you'll probably be looking at eyebrow maintenance, in which case it's very simple. You'll be in and out in a few minutes after our experts skillfully remove excess hair. The experience will be quick and relatively painless.  
Eyebrow shaping at the salon: here's what you need to know 
Does it hurt ?
This is often THE question we have before heading to the salon. While tweezers can cause some discomfort, it's not exactly painful. Moreover, our technicians are all fully qualified and highly trained, meaning they've got the technique down to perfection, making the experience as gentle as possible. You can expect to feel a pulling sensation or tingling, but it's very manageable, even for the most sensitive among us.  
Is there anything you should avoid doing before or after ?
Avoid using makeup before you go to the salon. In any case, it will need to be removed before the treatment begins, as any makeup traces or residue could lead to inflammation and reactions with the epilated skin.  
Similarly, it is best to let your eyebrows breathe after the process. Avoid touching or scratching them too much, even if it itches or stings a bit.