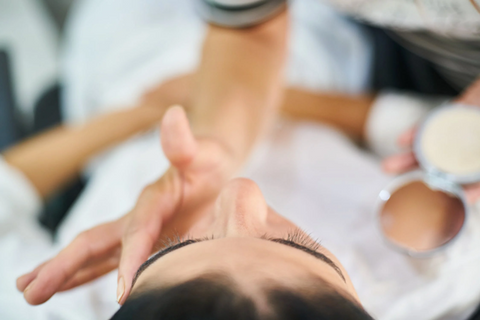 Micrograyling: what is this new permanent makeup technique ?
After microshading and microblading, a new technique to enhance your eyebrows has just emerged: micrograyling. So what is it? And how does it differ from other permanent makeup techniques? We're here to tell you everything.
How to enhance your eyebrows? That's the age-old question!
Today, we all want beautiful, thick and well formed brows to show off our eyes. And while eyebrows have been part of our makeup routines for a few years now, it can sometimes be difficult to know how best to enhance them and where to start.
For this reason, permanent makeup is one of the most popular solutions. It can help you get ultra-trendy, perfectly formed and full brows without having to apply makeup every day.  
Whether you opt for microshading, microblading or this new technique, micrograyling, your eyebrow makeup will stay put with no effort required!  
What is exactly is micrograyling?
Micrograyling is a brand new permanent makeup technique, which is designed to create the illusion of real hair where there is none, to correct sparse eyebrows whose natural, more complex, line would not be completely suited to microshading or microblading. 
By combining different processes such as shading, 3D effects, blending and colour effects, the technician first uses shading in a base colour before adding more intense nuances in micro touches to give depth and relief to your look.
What are the advantages to micrograyling?
If you're hesitating about testing permanent makeup, here are a few good reasons to take the plunge and try out micrograyling! 
Keep up with fashion
Micrograyling is undeniably THE eyebrow makeup trend of 2022. Permanent makeup and particularly micrograyling allow you to keep up with fashion and have a look that is always perfect! Don't forget that this eyebrow makeup technique is still very new… Why not be one of the first to adopt it!  
Get fuller brows
As you well know, today the trend is for full and well formed eyebrows….a look that isn't always easy to achieve, especially if you have been plucking your brows for a long time and have naturally sparse brows.  
Permanent makeup is THE ultimate solution to this problem and can give volume and thickness to your brows in a more or less natural way. The advantage of micrograling is that it combines several processes for a natural result and realistic, polished finish.
Long lasting results
Permanent makeup is known for its long lasting results. You can wave goodbye to applying makeup every morning and regular touch ups throughout the day.  
By inserting pigments under the skin, permanent makeup stays in place for several weeks. If you don't have the time to apply makeup every day, or you simply don't want to, this is the ideal solution for you. You'll no longer need to look after and make up your brows daily. A few micrograyling sessions a year will allow you to show off your eyes and keep your brows looking perfect, whatever the circumstances!  
Several shades and colours
Part of the appeal of micrograyling is that it uses a
combination of several colours
,
shades and nuances
. It is obviously out of the question to all have the same brows!
This new permanent makeup technique can be adapted to your eyebrows, their colour and your face.
A real specialist in eyebrow makeup
, the technician or beautician will be able to choose the right colours and shades to suit your complexion and hair colour for the most
natural
and perfect finish.  
Where can micrograyling be done? 
A fairly recent makeup procedure, micrograyling requires a bit of planning. You can't just entrust your brows to anyone. While more and more stars are being won over by this technique, it is still very new and not yet available everywhere. For a result that lives up to your expectations with an impeccable finish, it is essential to choose where you get it done carefully. For that, we recommend you leave it to the professionals. L'Atelier du Sourcil is exclusively offering micrograyling treatments from 1 March 2022.  
Thanks to our highly qualified, experienced technicians, you no longer have to shape and make up your brows yourself. Depending
on the type of eyebrows and brow line
you have, we will be able to advise you on the right choice of permanent makeup or any other brow makeup options.