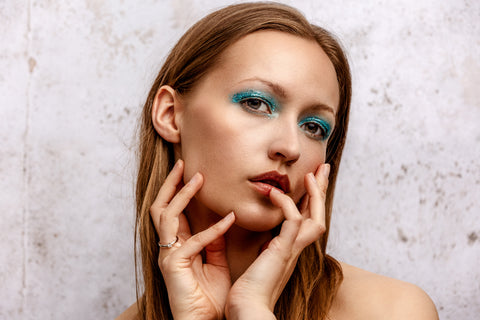 World Colouring Day: how about giving colourful makeup a go ?
World Colouring Day, which is celebrated on 6 May is the opportunity to discover the new big trend for colourful makeup, which has already been picked up by several famous influencers such as Huda Beauty and Chloé B. 
Colourful makeup: new trends to enhance your look.  
What about using colourful, original and creative makeup effects to enhance your eyes? This new trend for daring to use colour is set to become the latest must-have fashion.  
Flashy eyeshadow and colourful eyeliner 
Colourful makeup in eye-catching, flashy shades, which is creating a buzz on social media, uses the originality and beauty of colour to make your eyes stand out.  So how can you make up your eyes in a colourful, flashy way? Here's an easy, tried and tested technique to get your colourful makeup right every time:  
First apply a

base of eyeshadow

to smooth the surface of your skin and prevent makeup building up in the folds of your eyelid. 

 
Apply the

flashy shade

(blue, green, pink, orange, yellow) of your choice to your eyelid. You could also choose to combine several colours, but never use more than four different shades. 

 
To emphasize your eyes even more, try

redesigning the curves of your lower eyelid

using one of the colours used on your upper eyelid

. 

 
Trace a line of

black eyeliner

and finish off your makeup with a black or coloured mascara. Lastly, a touch of highlighter in the inner corner of the eye is the perfect finishing touch for a glowing look. 

 
If you prefer a more discreet look, you can just use coloured eyeliner in the shade of your choice. Don't be afraid to use flashy tones such as blue, orange, pink or green. Complete the look with mascara for that finishing touch.. 
Coloured eyebrow and eyelash makeup 
It is also possible to enhance your eyes in an original way with eyelash and eyebrow makeup. This is easy to pull off. You just need to carefully brush your brows, apply an eyebrow fixing gel, then use an eyeshadow base matching your complexion before applying eyeshadow in the colour of your choice. Be careful to use the right colours, choosing shades that complement the natural colour of your eyes.  
For your lashes, opt for coloured mascaras. The most on trend shades of the moment are blue, purple, orange, pink, green and white. 
What shades of makeup should you pick to suit your eye colour? 
For a harmonious eyebrow makeup look, and to help showcase your eyes, it is important to choose shades that naturally lift your eye colour. 
Blue eyes
If you have blue eyes, you can choose practically any shade you want. However, light orange and beige shades work particularly well. Pink shades also help enhance the blue colour of your eyes with a striking contrasting effect. Using black or coloured eyeliner to create a doe-eyed effect also really suits blue eyes, making them look bigger and enhancing the naturally light colour of your eyes.  
Green eyes
If you have green eyes, you can go for purple and plum colours. Pastel and copper tones are also perfect for showing off your eyes and nude shades can be an interesting alternative if you want a discreet, fresh look to give you a natural glow all day long.  
On the other hand, if you decide to embrace colourful makeup, purple mascara can also create an original look to help enhance the natural beauty of your eyes.  
Brown eyes
If you have brown or very dark eyes, it's better to avoid very pale and pastel shades, especially if you have a dark complexion. Skin tone is also an important consideration when choosing which makeup shades will suit you best.   
For brown eyes, opt for midnight blue, brown, grey or khaki shades. Gold can also really help lift your eyes. Lastly, to enhance black or dark eyes, there's nothing better than a line of khol with black or electric blue mascara.