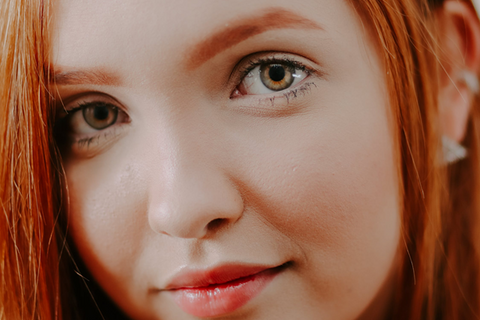 International Kiss a Ginger Day: what makeup is best for redheads ?
Long overlooked, red is now a very on-trend and much sought-after hair color. To mark international Kiss a Ginger Day, celebrating redheads on 12 January, here are some tips on choosing the right makeup to suit red hair. 
There are many tones and shades of red hair, ranging from auburn, fiery red, golden copper, and dark red. Whether your beautiful shade of red is natural or dyed, it is important to find the right makeup to suit your locks for a divine and irresistible look.  
Skin makeup for red hair 
Natural redheads usually have pale or even porcelain skin. It's best to opt for foundations and BB and CC creams that offer only light coverage and match your skin color. Redheads don't tan much or at all, so avoid foundations that are too far away from your natural skin tone, which would not look as natural and would have a jarring effect, seeming too out of step with your hair color.  
If you have freckles, go for a light foundation or cream, which won't mask the natural appearance of your skin. If you have dyed red locks, you can always draw on some freckles around the nose and cheekbones for a more realistic, very on-trend look. Many techniques, requiring henna, an eyebrow pencil, or simply a mascara brush, can be used to create realistic freckles on your face. This will require a bit of patience and dexterity but the end result will be worth it!  
Lip makeup for red hair
Which lipstick shade best suits redheads? Truthfully, the choice is yours! All colors are off-limits but, obviously, don't overdo it. 
Redheads tend to have a very pale complexion and often pale lips. Nice colors can bring your lips out while matching your outfit and makeup. 
For an everyday look, coral, beige, and light pink tones are perfect for adding a discreet touch of color to your face. They will illuminate your complexion, bring a freshness to your face, and help your eyes stand out.  
For a more glamorous look, don't be afraid of contrasts with a bright red or burgundy lip color. This will give you a more striking, femme fatale look. However, be careful not to overdo your eye makeup if you decide to go strong with your lips.  
Eye makeup for red hair
Nowadays, you can't think about makeup without thinking about eye makeup. Our eyes, used to express emotion, are very important and can easily be enhanced with the right makeup. This is even more relevant in the global pandemic, when the rest of our face is often hidden behind a mask.  
Your eye color is key to determining your eye makeup. 
Warm colors work particularly well if you have red hair and light green or blue eyes. Copper, orange, brown, gold, or bronze will all bring out your eyes while complementing your hair color.  
If you have red hair and brown eyes, go for cold hues, which bring out the color of your iris. Green, khaki or olive work well because the green shades perfectly suit red hair.   
Obviously, remember to enlarge and intensify your eyes by applying a volume effect mascara to your eyelashes. As redheads tend to have light eyelashes, brown mascara works better than the usual black mascara.  
Last but not least, shape your eyebrows, and don't forget to maintain them. Brows are an essential part of any good makeup routine, as they give expression to your face and enhance your eyes. It is important to take care of them and use makeup to make your eyes stand out and bring the finishing touch to your look. In line with the trend for full and well-structured eyebrows, don't hesitate to use eyebrow makeup to intensify your brows. Redheads can often have very light brows that may seem invisible. With the right products and accessories, such as mascara or a slightly darker eyebrow pencil, it is easy to fill in your brows and help them stand out. 
Permanent eyebrow makeup can also be a good alternative to accentuate and intensify your brows with a completely natural effect that will look great and enhance your eyes.